If you're continually looking for the next new thing that will save you time, make more money and satisfy your clients - we've got you covered. What if there was a way to build a WordPress-like website with no training or coding required? And, what if this same method would allow your clients to easily post content themselves, even by email, freeing hours in your weekly schedule?
If you love tech, but also want to spend more time at the beach, read on.
Would you be impressed if you could build an entire app from beginning to launch in 3 months?
Now imagine building that app with next-gen automation tools, sophisticated registration options, notification management, and more - in under 3 hours.
That's what we created. Our female-led tech company has been working for the last 9 years on an award-winning, patent-pending, technology that has been described by our customers as a true game-changer. Allow us to introduce, the IHUBApp™ Digital Experience Platform.
Inspiration from Africa and, Detroit?
InspireHUB was born with a request from Nelson Mandela to assist him with a worthy project to help South Africa's children. A group of international technologists came together with the idea of creating a country-wide platform that would provide charities with the most-effective way to communicate their worthy missions to engage funding for themselves while providing a tool that would allow everyone to be educated on the pediatric healthcare crisis. We also gained inspiration from some of our employees who came from the automotive industry. The manufacturing process provided us with the observation that with optimized efficiency, a completed car can be rolled off the production line every 3 minutes.
We began to ask ourselves; what if we could refine the engagement process to do something similar for our customers - by helping people - and by helping people to communicate faster, easier, and more effectively?
We all know that most people want to focus on content and driving engagement with customers. Yet, most software solutions have the user figure out where to put menus and buttons. Imagine excitedly getting into a brand, new car and then being asked where you would like the gas tank to be situated.
That's not the best use of anyone's time. We hired the best development techs in the business, spoke with hundreds of customers, and then tested and worked and tested for the past 8 years.
The result? An award-winning, patent-pending technology that is changing how customers engage.
Far above what's already in the marketplace.
We realize that's a bold claim, but there's a reason we are patent-pending. There's also a reason our customers are getting results like 195% increased engagement with an 80% decrease in hours spent. We know that's why we've been called a game-changer and it makes us smile because that was always the point. You're about to discover how the IHUBApp can help you easily achieve your business goals while freeing up your time.
The IHUBApp is a digital experience platform that makes it easy to create and manage an interactive website or app - without any coding required.
Designed for busy professionals who want to save time and money, the IHUBApp is perfect for small businesses, organizations, charities, causes, clubs, and associations who want to increase their online presence and simply engage their audience.
Imagine if you could save time, money, and even, your sanity.
Build a HUB for your clients in under 3 hours with no hours of WordPress training or CSS coding required.

Allow clients to easily post content themselves, even by email.

Work from anywhere in the world, even without an internet connection.

Generate automated newsletters.

Reduce your workload so that you can spend more hours doing what YOU want.

Receive a discounted licensing fee that can be resold to your customers at any additional fee of your choice, allowing you to create bundled services, monthly subscriptions, and additional income.




Interested? Watch the video below now and see for yourself!
We promised that you could build a hub in under 3 hours, but watch as President and Founder, Karolyn Hart, builds one in under 15 minutes!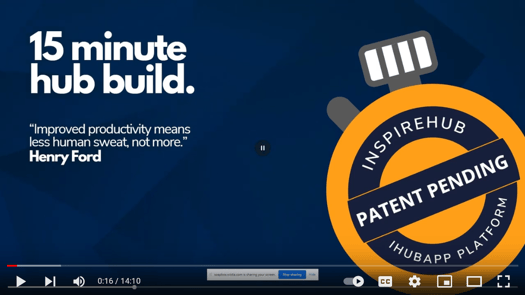 Dare to imagine your life, easier.
If you're a freelancer looking to save time, make more money, and better serve clients, or have been working in the web design space and finding "easy to use" tools complicated and time consuming, check out our new Partner program: https://www.inspirehub.com/hubmaster.
When you join the program, we'll give you a free HUB that you can build and explore without commitment. You can even build one for a potential client, and then only activate it when you're both ready!
Still have questions or like to chat more about the opportunity? You can book a time that works for you here: Book a call with InspireHUB. We look forward to speaking with you!
We look forward to working with you!
The InspireHUB IHUBApp Digital Experience Platform is a next-gen content management system that allows you to host and build digital experiences that remove the walls that once existed between websites, apps, portals, and intranets. Discover the power of the PWA-enabled IHUBApp to increase your engagement today.
For more about Progressive Web Apps: Read InspireHUB's latest free white paper, 'The 2023 Future of Apps' - helping digital professionals understand the latest sweeping paradigm shifts that have happened in digital technology.
Have a comment or question? We'd love to hear from you.