What is IHUBApp?


keyboard_arrow_down
The IHUBApp is patent-pending platform that is disrupting how people build.The IHUBApp is a next-gen content management system that allows you to host and build digital experiences of any kind. Hubs contains intelligent technology that automatically detect the user's specific device and engages with the operating system. It offers up the appropriate device experience whether it is desktop, mobile, or tablet.

It's the world's first no-code progressive web app Hub builder and changing not just how people build, but who is able to launch and build. We see a future where a lack of technical skillset does not limit who can engage.

What is a Hub? Hubs contains intelligent technology that automatically detect the type of device the user is on and engages with the operating system. It offers up the appropriate device experience whether it is desktop, mobile, or tablet.
A hub on a mobile-device is far more than a 'mobile-optimized' website as it IS an app.

A hub on a desktop offers up a website experience that seamlessly brings your users together.

A hub is a website, and IS an app, and IS a massive game-changer!
Hubs are Changing Apps - Here's How
The IHUBApp is a patent-pending, award-winning technology that turns everything you THINK you know about apps on its head. Leveraging PWA technology is only the beginning. The Engineers at InspireHUB asked why it is that cars can be produced off a line in record time, but when it comes to building websites and apps it can take months.

With that mindset, they realized the problem is that most platforms are built by engineers for other engineers. Meanwhile, most customers, marketers, designers and writers want to just focus on content.

The solution? The engineering team at InspireHUB figured out all the complexity of features that intake content and images (ie, the gas) and then automatically (and intelligently) the Hub takes care of the rest, making the hub ready to drive. All you have to do is turn the key and GO!

How it Works

The IHUBApp is designed to be as user-friendly as possible. Marketers, designers, and content writers can easily input content and images into the Hub. Meanwhile, the engineering team at InspireHUB has taken care of all the complex code necessary to make sure your App runs smoothly. In other words, they've done all the hard work, so you don't have to!

What are the advantages?

There are many advantages to using a Hub over a traditional App. First, it's much cheaper and faster to produce an App using a Hub. A Hub-based App will be more reliable and efficient than a traditional App because all the complex coding has been taken care of by InspireHUB's engineering team. Finally, users will appreciate the user-friendly interface of a Hub-based App because it is designed with them in mind!

If you're thinking about creating an App for your school or business, consider using a Hub instead of going traditional. You'll save time and money while ending up with a better product!
apps
Apps
Using the latest in Progressive Web App Technology. Launch your app in days.
web
Websites
Take your website to the next level by creating an experience that builds relationships.
nature_people
Intranets & Extranets
Build an intranet or extranet in days (not months) to immediately begin engaging your team.
cast_connected
Supplier & Vendor Portals
Connect and engage with your distributors and suppliers instantaneously.
The IHUBApp is a new invention. That's why we are patent-pending.
group_add
Better Relationships
Community building tools turn a standard digital experience into a powerful engine for your brand that is proven to increase engagement.
card_membership
Better Ownership
All your data belongs exclusively to your brand to do with it as it sees fit. InspireHUB does not participate in data brokering of any kind.
security
Better Guardianship
Cyber.SC completes regular reviews of our closed-circuit digital experience platform and provides discounts to all IHUBApp clients.
Registration Process
Customize the sign-up process for your community. You decide whether or not your community is public, private, or invite-only. Choose how users login, whether using email or social networks. Decide if you want to promote channels or automatically add users to channels upon successful registration.
User Profiles
Customize what information you collect on users when they join your community. Create the perfect user profile so that you can easily sort and communicate with specific user segments. GDPR compliance is already built in so that users can opt-in and out of what they allow.
Permission Access
Easily create custom user roles that determine what level of access each user has and what they can see. Allow different channels, feeds and forums to be controlled by your team or by giving access to trusted owners. The IHUBApp® makes it easy to distribute the power or control it fully.
Features
Select which features you wish to turn off and on. Our engagement modules include a variety of apps and notification options that make it easy to transform your communications.
NO DATA BROKERING
You own all your data. InspireHUB has a strict "no data brokering" policy as a company providing you with a peace of mind.


IMPORT & EXPORT USERS


Easily import user data, and the IHUBApp™ will automatically invite your users to your hub. Export your user data whenever you want into a CSV file for use with other community tools.




FILTER & TARGET USERS


Easily sort your community users based on the custom user profile fields your community designed.




AUDIT LOGGING


Track changes, view user engagement and easily see all changes into your IHUBApp™.




AUTOMATED BACKUPS


The IHUBApp™ Platform is automatically backed up on Azure and has regular monitoring performed.
DATA MANAGEMENT
Easily manage your data in a safe and secure environment.
COMMUNICATIONS

Easily streamline messages and keep users updated with our automated notifications and newsletters.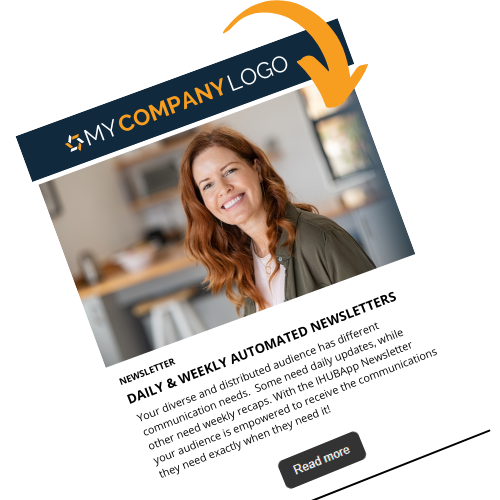 INTELLIGENT CHANNEL FEEDS

We've designed an intelligent system that makes it easy for you to post updates into channels that you have created and organized. Then our system automatically notifies each channel member according to their individual preferences providing a hyper-personalized experience every time.


AUTOMATED NEWSLETTER
Each week the IHUBApp™ sends out personalized newsletters to every registered visitor based on THEIR interests and notification specifications.

NOTIFICATION MANAGEMENT SYSTEM


Push, text, email, and desktop notifications across the platform keep your users informed of all updates happening across your IHUBApp™.




HYPER-PERSONAL MESSAGING
The IHUBApp™ system allows your users to subscribe and become members of the channels, groups, and topics of interest to them, ensuring that messaging is targeted and relevant.


PRIVATE MESSAGING
One-to-one messaging available directly from within your IHUBApp™.


POLLS & SURVEYS
Create polls and surveys to increase engagement.


TEXT-TO-DOWNLOAD
Add a word to our short code to make it easy for residents to download the IHUBApp™ with a simple text.
CUSTOM USER ROLES
Create custom roles that you can easily assign to users that determine what and how they access your platform.


CUSTOM USER PROFILE
Customize what information you collect on users when they join your community. Create the perfect user profile so that you can easily sort and communicate with specific user segments. GDPR compliance is already built in so that users can opt-in and out of what they allow.


MANAGE USERS


Easily suspend and activate accounts as required.




TARGET USERS


Sort and filter your users based on all the criteria that you have set out for your community.
USER MANAGEMENT

Manage your users and distribute the access as you see fit!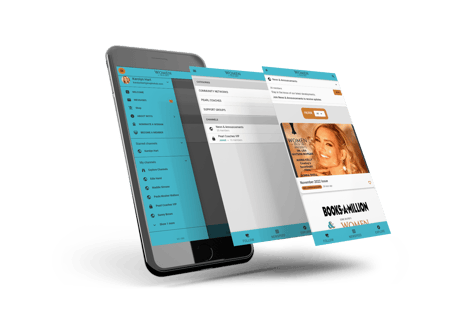 MONETIZATION

Events, fundraising, and premium subscriptions!
FREE OR PAID TICKETS
Add free or paid tickets easily to any event that you create.


RESERVATION EMAILS
Attendees are sent a confirmation of their reservation upon successfully registering for an event.


NO ADDITIONAL FEES
The IHUBApp™ takes no additional fees on ticket sales. Integrate with PayPal or Stripe and only pay the merchant fees associated with those services.


ONLINE SHARING
Easily promote your event posts to any website, social work, or email that you wish to promote your event.
ANALYTICS

View results, filter lists, track user engagement, and see all activity.

assignment_ind
Custom User Profiles
Empowers you to know what is important to your users so that you can engage at the personal level.


chrome_reader_mode
Automated Newsletters
Each week the IHUBApp™ sends out personalized newsletters to every user registered on your digital experience based on THEIR interests.
attach_money
Enable Advertisers
Empower your local and global brands to easily promote their offerings directly with moderation control to help save you and your team time!
how_to_reg
Volunteer for Tasks
Encourage volunteer participation on projects and tasks that are important to your organization.
local_play
Event Sales
Promote your events, use free and paid tickets, with no additional fees!
supervised_user_circle
Members Only Areas
Members can all safely communicate in a completely secured environment.
new_releases
Recognize What Matters
Detailed analytics along with Polls allow you to easily see the interests of your users.
vpn_key
Private Channels & Feeds
Easily create secure channels that allow users to easily communicate with one another!
contact_mail
Secure Messaging
Private message center provides the ability to engage directly while providing your users with a secure space to communicate.


loyalty
Behavior-Based Targeting
Customize the fields on the User's Profile that allows you to understand their motivations and interests.


assignment_turned_in
No Mess Content Creation
No messing around. Creating a page or post is easy as inputting what you want to say and pressing save.


folder_shared
Easily Manage Users
We've thought of it all from easy list imports that automatically invite your users to a one-click suspend button that instantly blocks access.



The IHUBApp is a 'game-changer'.


keyboard_arrow_down
group_add
Secure Community
Instead of trying to figure out which community is safe to use, launch and OWN your very own private community.
video_call
Multi-Media
What's the media type do you wish to promote? Video, calendars, blogs, images, and more!

power
Easy Integration
Integrate easily with your favorite tools, calendars, forms, and registrations.


highlight
Progressive Web App
The IHUBApp™ uses the latest in PWA Technology, providing you with lightning fast engagement!
network_locked
Privacy & Security
InspireHUB has partnered with Cyber.Sc to ensure our technologies remain safe and secure while also providing your team with critical training.


device_hub
No Third Parties
Why allow a third party to optimize the power of your data when you can do it for yourself? The IHUBApp® License is clear. YOU own your content and your data!
notification_important
Notification Management
We enable your content to be easily followed and a notification system keeps them coming back. Desktop, Push, Text, and Email work together to ensure your people are kept current!
person_pin
You're In Control
Private or public? Publisher or Contributor? Make and change security roles, app settings, and more all from the ease of your dashboard. You control it all!


Questions?


Here's a few general questions we often get asked.
Do we have to pay for updates?
No! We are constantly working on updating our software and providing new tools and features. You get all the updates for FREE, and when we make the update, it is instant. We even prompt the users on your hub, so they are up to date also!
Will the IHUBApp give me an app icon on the phone?
Yes! Depending on the phone and browser they will receive a prompt to "Add to Phone". On Android, this places the icon directly in with their other apps. For Apple phone users, they can decide where to download the icon on their phone.
Do we have to install anything?
No! Everything is based in the cloud. Once you login to your dashboard, you can immediately start building your IHUBApp! For your users, they just need to click on your URL, and the magic of PWA technology is it will instantly give them access to your content WHILE it is installing on their phone.
Is my IHUBApp secure?
Yes! We're also partnered with Cyber.SC to ensure we remain compliant in every country we operate in. The good news is that you don't need to worry about staying up-to-date with open source code or plugins that have been proven to be easily compromised.
Can we host our IHUBApp somewhere else?
We are a software-as-a-service platform which means you subscribe to where we host our technology. That said, for large corporations who have certain industry and compliance concerns, we can work with your IT team to understand this need and discover a solution that will help you meet your compliance concerns.
Who owns the data, content, and users in the IHUBApp?
For paying customers, you do! We provide the licensing of technology, and everything else belongs to you. Everything that you put into your hub is yours, and we have no rights or access to it. Just like when you create a document using Word, you own it all!
What happens to my content if we wish to cancel?
If you decide to opt-out of the IHUBApp, your content will become inaccessible, but our team will work with you to extract key pieces of data into CSV files for future reference. Depending on your industry, we may be required to keep your hub backed up for a certain amount of time in order for you to access it in the future and in case you change your mind!
How fast can our IHUBApp be launched?
Fast! It's under 10 minutes to launch. Typical builds can be completed in about 3-4 hours.
Is it true we can contact support about ANYTHING?
Yes! Customer service is #1 for us, and making your organization successful is our top priority. We once had a client call us to ask if she had caught a wasp or a bee as bees are protected where she lives. Our team was helpful to "bee" of service, and that's the sort of legendary stories that we love to see "buzzing" around the digital universe about us!