INTELLIGENT CHANNEL FEEDS
Discover a smarter way to communicate.
Ensure that an important or critical update is never missed again with the power of the IHUBApp™ Digital Experience Platform intelligent channel feeds that come standard with every license.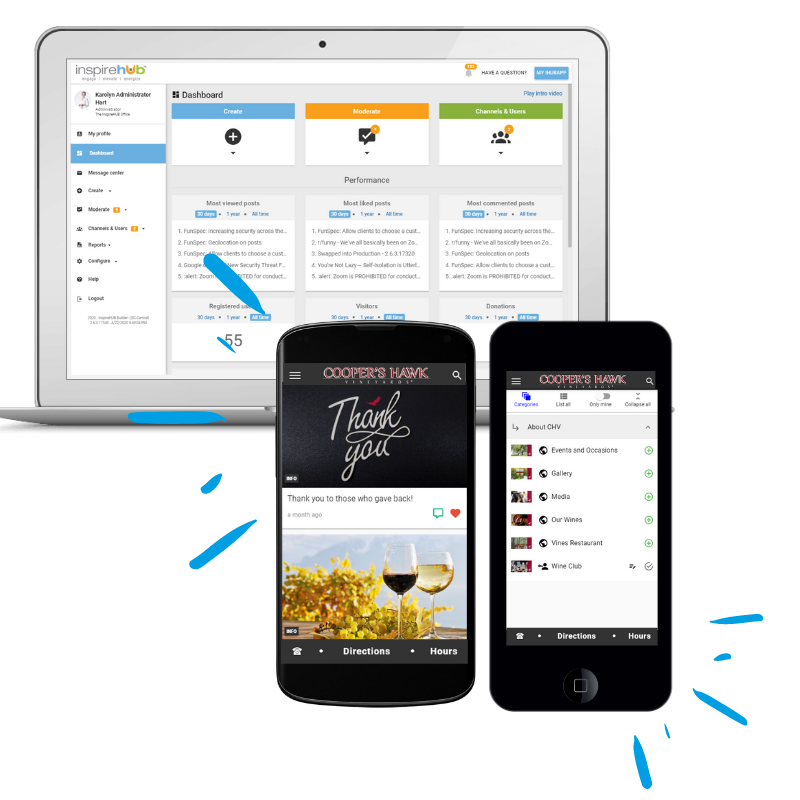 What are Intelligent Channel Feeds?
We've designed an intelligent system that makes it easy for you to post updates into channels that you have created and organized. Then, our system automatically notifies each channel member according to their individual preferences providing a hyper-personalized experience every time.

Discover how our Intelligent Channel Feeds can help your business.
announcement
Automated
Notifications
Push, text, email, and desktop notifications across the platform keep your users informed of all updates happening across your IHUBApp™.
view_quilt
Automated
Newsletters
Each week, the IHUBApp™ automatically sends out personalized newsletters to every registered visitor based on THEIR interests and notification choices.
fingerprint
Automated
Personal News Feed
As users subscribe and join channel feeds, a customized news feed is created specifically for them on the homepage of the IHUBApp™.
how_to_reg
Automatic Triggers
for Registration
When a user tries to engage with content (like, comment, share) or to JOIN a channel feed they are automatically prompted to register.
upgrade
Auto-promote
Popular Channels
Automatically promote your most popular channels to new users who are registering for your IHUBApp™ in order to drive engagement.
folder_shared
Automatically Add New
Members to Predefined Channels
Pre-set new registered users of your IHUBApp™ to automatically be added as members to specific channels of your choosing.
"Companies will need to ensure that their digital channels are on par with or better than those of their competition to succeed in this new environment."
The COVID-19 recovery will be digital: A plan for the first 90 days | McKinsey.com
public
Public
Channel Feeds
Everyone is welcome to explore the updates in these channel feeds. They'll automatically be prompted to register if they select to JOIN the channel or try to engage in a conversation.
vpn_key
Request-to-Join
Channel Feeds
Channel owners are provided with the power to approve or reject requests from users who express an interest to JOIN their channel.
lock
Private
Channel Feeds
Private channels create the exclusivity and privacy you need. Only members who receive an invitation will see the channel appear in their feeds.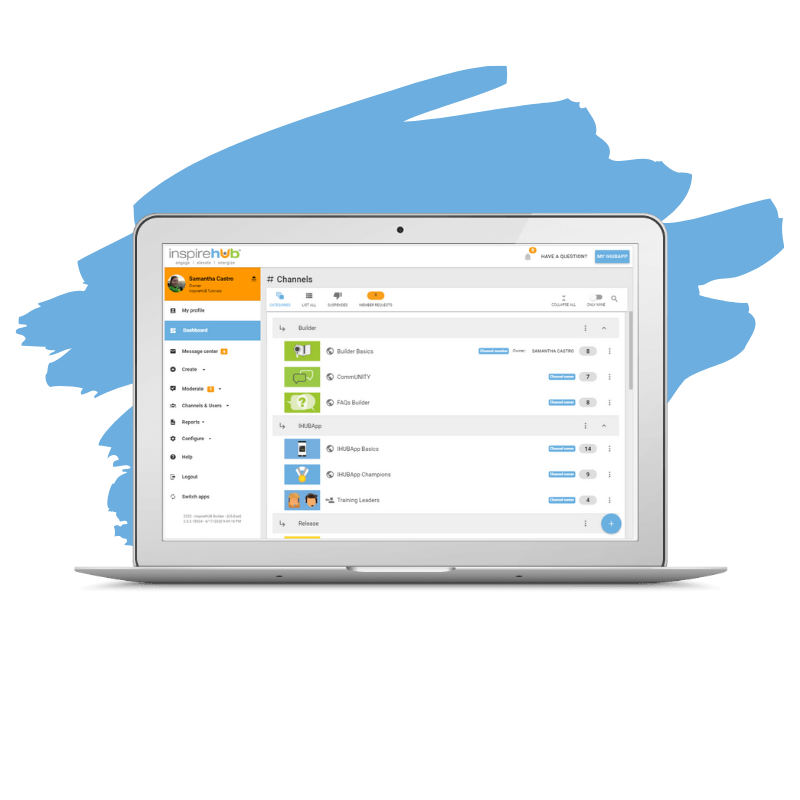 Unlimited Channel & Categories
Whether you have 1 channel or 100 channel feeds, you will be able to create exactly what you need for your size of organization.
Channel Ownership & Management
Setup custom access roles and distribute the responsibility of channel management to your teams to increase productivity.
Post-by-Email
Reading an email that you want a group conversation to happen around? Do you have automated reports that are emailed? Email any channel and your message will automatically publish and notify the team there's a conversation ready to start!


Text-to-Download
Promote a specific channel with our text-to-download service and link it directly to a channel to help increase membership.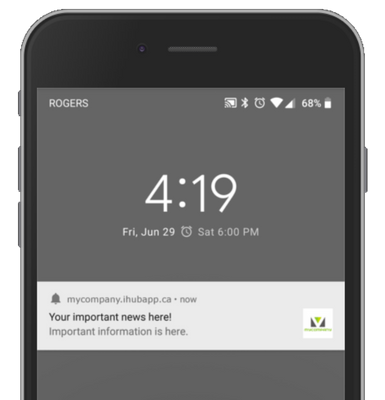 It's time to digitally transform your business.


keyboard_arrow_down
CUSTOM SOLUTIONS
Intelligent channel feeds for your digital experience.
The IHUBApp™ is the digital experience platform of choice for small businesses. We work with you to create a custom-designed stunning digital experience (website, app, portal, or hub) to meet the specific communication needs of your business. Your intelligent channel feeds are just one of the many features to help take your small business to the next level.

STREAMLINED COMMUNICATIONS
Organized conversations filtered by you.
Continuous streams of information in digital chats create a wall of words that are difficult to sort through and create huge productivity barriers.

We listened to under-resourced teams who explained they needed a better way to sort through messages, engage in conversations, and be notified of new comments for relevant conversations they are interested in following.
REAL-TIME NOTIFICATIONS
You set the notifications that your users can control.
The IHUBApp's notification management systems can be completely customized to your specific needs. Channel feeds can be configured to determine what level of notification is engaged when a post is submitted. Channel members can set their notification preferences to ensure they are notified about the matters that are pertinent to their roles.
SMS Text Notifications - are best enabled for emergency notifications, or urgent matters that your team has determined are mission-critical.
*Bulk pricing available for this feature.

Push and Desktop Notifications - can be enabled on all channels to let the person know when something new has been posted.
Email Notifications - can be enabled for key actions and updates happening in the IHUBApp™.

Want to learn more?
keyboard_arrow_down