You might have noticed we have a bit of a soft spot for horses as we've been empowering the people that love them with our IHUBApp. Today's spotlight is on our friends at the National Reining Horse Association (NRHA) as they get set to kick off the most prestigious event in the internationally popular equestrian sport of reining. Fans are invited to take a front row seat at their 10-day NRHA Futurity event in Oklahoma City on Thanksgiving Day, November 23rd, through the NRHA Futurity IHUBApp, powered by InspireHUB Technologies.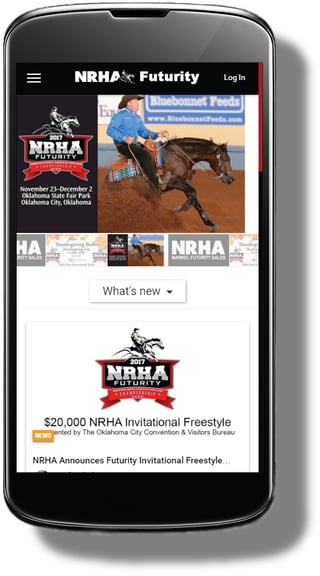 During the NRHA Futurity, the world's best reining horses and competitors head to Oklahoma City to compete for an estimated total purse and cash prizes of more than $2 million.
"We are excited to offer this new communication technology to our members and fans around the world," said NRHA Commissioner Gary Carpenter. "Whether members are at the show in Oklahoma City, or anywhere across the globe, they can keep up with the NRHA Futurity action from their mobile phone or desktop. And this is so easy to access and use, it's the perfect way to engage with fans of reining."
Fans can make NRHA's Futurity IHUBApp their own, choosing the "channels" they are most interested in following for a hyper-personalized front-row seat. Whether you're interested in event Activities, the Tradeshow and Exhibitors, videos to help acquaint you with the thrill of the sport, or Youth-based topics, you can easily tailor your event experience at the click of a button. Hop on over to the Cowboy Church, dig into the Thanksgiving Feast, or kick up your own happy hooves at a Sliders' Night Out.
So what exactly does the Super Bowl of performance horse events look like? Click here to take a peek as Andrea Fappani secured his third NRHA Futurity Level 4 Open win Rancho Oso Rio's Spooky Whiz last year.
The IHUBApp gives event hosts a leg up through the use of Progressive Web App technology. That means no downloading anything from an app store, and no worrying about whether or not it's going to be compatible with your device. The IHUBApp lets event visitors tap in both onsite and remotely through any device, whether mobile or desktop, even when connectivity fails.
The NRHA Futurity IHUBApp can be accessed via the URL: https://nrhafuturity.ihubapp.org/ or you can text the letters NRHA to 28748.
To request a tour or view a sample of the IHUBApp for your brand please visit: www.inspirehub.com
About InspireHUB Technologies Inc.- Create. Curate. Collaborate. When you need to promote your organization, review documents, sell tickets, live stream video, recruit volunteers, provide instant notifications, do product training, on-board new hires, collect donations, and more, the IHUBApp makes it simple. InspireHUB can be found on the web at www.inspirehub.com