Welcome to the ultimate guide on how to create a killer newsletter in a fraction of the time. If you want to keep your subscribers engaged and coming back for more, then you need to learn the ins and outs of crafting. In this article, we'll be diving into the nitty-gritty details of what makes a newsletter great.

So, let's get started.

First things first, let's talk about why newsletters are important. If you want to stay top-of-mind with your audience and keep them up-to-date on your latest happenings, then a newsletter is the way to go. It's a great way to share news, updates, and exclusive content with your subscribers. But, the key to success is creating a newsletter that's engaging, informative, and fun to read.

Here are some great tips on how to create a killer newsletter.

Tip #1: Get to Know Your Audience

If you want to create a newsletter that resonates with your audience, then you need to know who they are. Take the time to research your subscribers, find out what they're interested in, and create content that speaks to their needs and desires. What makes them tick? What problems do they have that you can help solve? The more you know about them, the better you'll be able to craft a newsletter that speaks to their interests and pain points. The content is the critical piece of everything you do.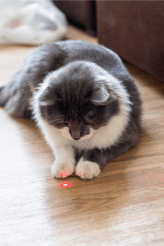 Tip #2: Mix it Up
No one likes a boring newsletter. That's why it's important to mix it up and use a variety of content types to keep your readers engaged. From text to images, videos to GIFs, there are endless ways to make your newsletter more interesting. Don't be afraid to try new formats and see what works best. After all, variety is the spice of life! And if you keep sending out the same old stuff, your readers will probably start hitting that unsubscribe button faster than a cat chasing a laser pointer.
Tip #3: Personalize Your Content

One-size-fits-all content just doesn't cut it anymore. Personalization is key when it comes to creating a successful newsletter. We're not talking about email segmentation where 1,000 people get the same newsletter. When we say "personal" we mean an individually crafted newsletter for every single reader!

"That sounds impossible!" you say? Good thing we built the IHUBApp that does this for your automatically. (Psst - It's free to build and affordable to use. Get started now!)
Tip #4: Add a Clear Call-to-Action

If you want your readers to take action after reading your newsletter, you need to give them a clear call-to-action (CTA). This is the part where you tell them what to do next. Do you want them to visit your website, purchase a product, or sign up for a course? Whatever it is, make sure that it's clear and easy to find. Don't be shy about it. This will help to drive conversions and keep your readers engaged with your brand. You can easily add a CTA to the end of every post you create in your IHUBApp.

Tip #5: Test and Measure

Finally, make sure to test and measure your newsletter. The only way to know if your newsletter is working is to measure it. This means tracking your results and making data-driven decisions. Use A/B testing to try out different content types, formats, and CTAs to see what works best. Analyze your open rates, click-through rates, and other metrics to see what's resonating with your audience and what's not. Don't be afraid to make changes based on what you learn. Keep testing and measuring, and keep improving your newsletter to give your readers the best experience possible.

Crafting a good newsletter used to be a challenging task, but not anymore with the IHUBApp. We're saving communicators up to 80% of their time while increasing engagement by as much as 195%! Check us out today!
It's Time for a Disruption to Newsletters: Create a Serious Impact with an App that Automatically Delivers 195% Increased Engagement.
We love to help support and inspire freelancers. Receive free, in-depth training, consulting, mentorship and community!

If you're a freelancer or agency owner looking to save more time, make more money and better serve your clients, this is the partnership for you. Our IHUBApp Ally program pay 20% commission on the life of any license sold.