InspireHUB Free Resource Library
keyboard_arrow_down
At InspireHUB, we are committed to helping your small business not just survive but thrive!
Check back often for more great FREE resources from InspireHUB staff and partners.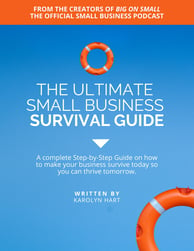 The Ultimate Small Business Survival Guide
It's a trying and stressful time for everyone in the world, but for small businesses, it's particularly challenging. Most small business owners have to carefully plan a simple one or two week vacation because of the potential loss of customers and impact to cash flow. This Small Business Survival Guide is FILLED with practical advice to help you survive. We know that getting through this time will then help you thrive as the economy stabilizes. We've designed this survival guide so that you can implement it by yourself without our assistance.
Loving Remote
This book
Loving Remote
will help you and your leadership team understand what you're up against. It will explain simple principles such as how different remote life is for those who lead teams versus employees; how you may be blaming your exhaustion on technology (Zoom Fatigue anyone?) when it's actually something different; and what it means to create success plans that will allow every employee on your team to LOVE the new remote reality both now and for years to come!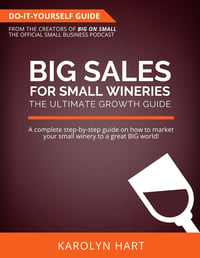 Big Sales for Small Wineries
This Big Sales for Small Wineries eBook is specifically designed for established boutique wineries (those producing less than 10,000 cases) as a step-by-step guide to achieving your best year in sales yet. It is packed with practical advice on everything from questions to ask the person who is managing your marketing, to insights into what consumers actually want in a Wine Club, and even a list of creative ideas to help generate additional revenue streams.

Do you remember where you were when you first had the dream of building your small business? How the mere thought of it sparked an excitement and a future filled with hope? Where were you the first time you sat down and began to take the action to implement your dream?
The journey to launching your own business is unique to every business owner, but we have so much in common. In the early days of creating your business, everything feels fresh and exciting regardless of whether your network of friends and family are supportive and telling you that you are absolutely 'crazy'.
Deep down, you knew one thing for sure. There was a moment you stepped out in faith and realized there was no going back. The reality is that there is nothing easy about the process of creating and launching a small business. At InspireHUB, we know that 90% of businesses are small and helping YOU become successful has a direct impact on creating a healthy community, town, city, country and economy! That's why we created the Big on Small Podcast, the official small business podcast that is fully focused on the running of small organizations. Join us and learn more at: bigonsmall.biz